Joy Sunday appears as Bianca. Along with her friend Divina, they represent Nevermore's popular students. The latter one is played by Johnna Dias-Watson.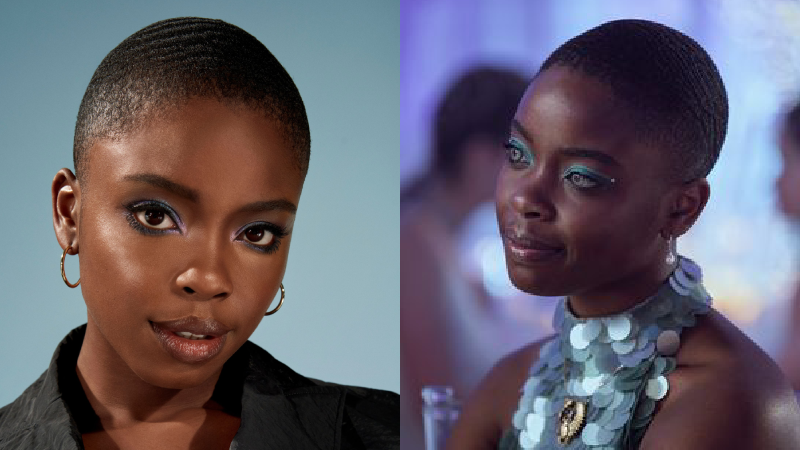 Biography
In the "Wednesday" series about the Addams family, one of the central characters was a young dark-skinned actress whose last name, like that of the title character (Wednesday is Wednesday), means one of the days of the week (Sunday) in English. The name of the rising star of American cinema, Joy Sunday, translates to "joy."
Childhood and adolescence
The future actress was born April 17, 1995 in a family of natives from Nigeria, who lived in New York City's boro Staten Island. The actress, whose full name is Joy Okon Sunday, has a brother Victor.
Little is known about Joy's early biography. The girl received her artistic education at the Fiorello H. LaGuardia High School of Music & Art and Performing Arts, located in Manhattan, near Lincoln Center. In addition, Sunday graduated cum laude from the School of Motion Picture Arts with a degree in Film Criticism.
Films
Early in her film career, Joy starred in several short films, one of which bore her name and dealt with the situation of black girls in Donald Trump-era America. At the age of 23, Sanday made her mark in one episode of the detective-drama saga "New Agent MacGyver." That was also the artist's contribution to the sitcom "Dear White People."
In the full-length drama "The Hangout," Joy created the image of Sophia. The film received an R rating due to sexual content, profanity, smoking and drug use in the frame.
Personal Life
Joy does not seek to flaunt her personal life. It is known that the actress is single and her height is 170 cm.
Joy Sunday now
In the series "Wednesday" Joy reincarnated as the siren Bianca Barkley, the former girlfriend of Xavier Thorpe, played by Percy Hynes White. Snapshots from the tape appeared on Sunday's page in Instagram.
The image of the title character Wednesday Addams was created by Jenna Ortega, and her parents Gomez Addams and Morticia Addams were created by Catherine Zeta-Jones and Louis Guzman. Joy claims that the entire cast of the project received canoeing lessons every morning.
In addition to the film about the Addams couple's daughter growing up, Sunday's filmography was expanded in 2022 with the feature-length adventure drama "Lulu and Briggs." Belgian sheepdog Malinois and Channing Tatum played the central roles in the film, and Joy played Dr. Grey. In the year of the Blue Water Tiger, Joy starred in Brian Woznicki's feature-length drama thriller Under the Influence.
Filmography
2018 – "MacGyver"
2019 – "Carol's Second Chance"
2019 – "Pleasant Trouble"
2020 – "My Hair Wants to Kill"
2021 – "Beta Testing"
2021 – "Dear White People"
2022 – "Lulu and Briggs"
2022 – "Wednesday"
2023 – "Under the Influence"
Interesting Facts
In 2020, Sunday's small hometown of Staten Island, now home to about half a million people, was sung in Judd Apatow's drama "King of Staten Island."
Wednesday's Joy Sunday Talks Relationship With Jenna Ortega