Due to inexplicable murders taking place around the Nevermore Academy, Sheriff appears in the series. His name is Galpin and he is played by Jamie McShane.
Biography
American actor Jamie McShane planned to become an athlete in his youth, but an injury put an end to that dream. However, dexterity and athleticism, acquired during the years of training, became the bridge on which the man came to the film industry, as he began his acting career as an understudy.
Since then, many years have passed, unnamed roles are in the past, and Jamie can boast of dozens of bright works in films and TV series.
Childhood and youth
McShane was born July 22, 1966 in Saddle River, New Jersey. This area is famous for its picturesque fields, rivers and forests, as well as proximity to Manhattan, which is located 40 km, and therefore live there is considered prestigious, not without reason its residents have the highest per capita income in the United States.
The actor's parents raised five children, and he was the fourth, and the difference in age with his younger brother in McShane was 7 years. Large and friendly family honored all holiday traditions, celebrating Christmas together, Thanksgiving and Independence Day, and Easter traditionally ended in tears older sister, which is methodically brought to tears older brother.
Jamie's father owned a company that sold and serviced microscopes, and from a young age the boy worked for his father's company, driving his truck around the surrounding towns, making deliveries and sales. He enjoyed hockey and tennis, but a head injury in high school put a damper on his athletic prospects.
McShane received his undergraduate degree from the University of Richmond, where he majored in English literature. Diploma was in Jamie's hands in 1988, and by then he had not even thought about acting career. The guy traveled the world and made money as a tennis coach, in parallel, pulling rackets.
Films
McShane's acting biography began with a series of episodic roles in TV series. Jamie admitted that it took 12 years before the new craft began to bring him a tangible income.
Starting to take off in the late 1990′s, he supplemented the filmography of such projects as "Star Trek", "Firefly", "The West Wing", "The Mentalist", "Dr. House". No matter how good and popular these shows were on their own, McShane did not stay in them longer than a couple of episodes, and therefore hardly had to talk about his weighty contribution to their creation.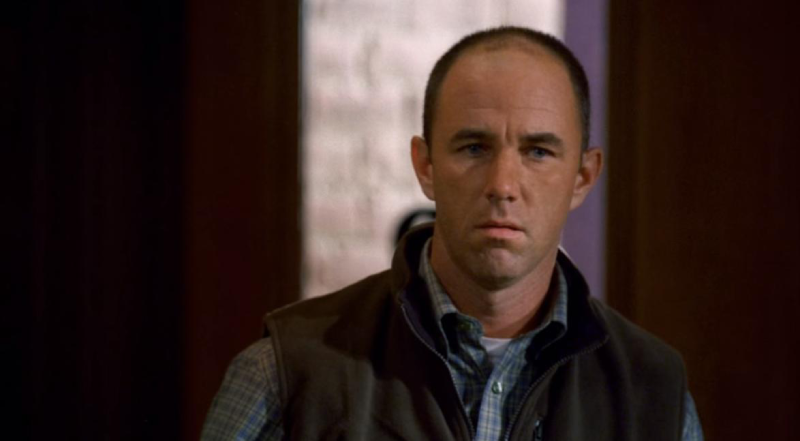 The first notable role Jamie got in the crime thriller "24 Hours", where for 6 episodes playing White House press secretary Jerry Whitehorn. The actor himself considers it his professional luck to get into the cast of the series about bikers "Sons of Anarchy", where he was delayed for 3 seasons, playing a character named Cameron Hayes.
All recurring roles McShane saw as a great chance to dig deeper into the psychology of his characters, as well as to feel his woven into the fabric of the show.
Another job Jamie likes to talk about was the role of Eric O'Bannon in the family drama "Pedigree" which aired on Netflix from 2015-2017. Although with his height and build, McShane didn't fit the type prescribed in the script, he still passed the selection, capturing the psychological basis of the character with precision.
Playing this character, the actor did not think about royalties and popularity, wanting to understand the essence of this man and bring him to life, making him authentic, connecting with his every line. In the process, Jamie felt completely free, resulting in the most amazing experience of his career.
The fact that his characters are often dark and complex does not discourage McShane, but rather encourages him to clarify their underside and get to the root of their corruption. Having played many dark and flawed guys, the actor tried to find something beautiful in them and connect with them at that point, appreciating the depth and versatility of such work.
Now Jamie has about a hundred and fifty roles in projects of different genres, including fantasy ("Grimm"), superhero action films ("The Avengers"), dramas ("Operation Argo") and psychological thrillers ("The Disappeared").
Personal life
McShane does not advertise his personal life, but some facts about it are known. He is raising sons with his girlfriend, managing to enjoy a cozy atmosphere in the family and be annoyed about the abundance of homework, which burden his boys in school.
Another source of joy and anxiety in the house is Shannon, a Chihuahua and Russell terrier mix who growls, hides, and whines constantly, but never stops being the family favorite.
Jamie does not feel the need to share news and photos on social media, preferring face-to-face to virtual, but does use Twitter from time to time.
Jamie McShane Now
The standout series premiere of the fall 2022 season was the fantasy comedy "Wednesday" directed by Tim Burton and others and based on the story of the Addams Family. The protagonist of the project was Wednesday Addams, the daughter of Gomez and Morticia Addams, played by a young Jenna Ortega.
And Jamie got the role of Sheriff Donovan Galpin – a cynical and dissatisfied with life single father, who hates the Nevermore Academy and wants to settle a score with the father of the main character.
In the same year, McShane appeared in a couple of other projects, including the series "Lincoln for Lawyer" and the thriller "Immanence".
Filmography
2003-2004 – "24 Hours"
2008-2010 – "Sons of Anarchy"
2011 – "Thor"
2011-2013 – "Southland"
2012 – "The Avengers"
2014 – "Vanished"
2014-2016 – "Murder in the First Degree"
2014-2017 – "Scorpion"
2014-2018 – "The Fosters"
2015-2017 – "Pedigree"
2018 – "Unsolved Case"
2021 – "CSI: Vegas"
2021 – "By the Laws of the Wolf"
2022 – "Lincoln for Lawyer"
2022 – "Wednesday"
Interesting Facts
The actor's real name is Jamie Nelson Simon.
McShane's favorite treat is chocolate-covered caramel.
If the actor could get one superpower, he would choose the ability to fly like Superman.
Jamie likes to watch TV shows. His favorites are "House of Cards" and "Sharp Trumps."
Jamie McShane talks #Wednesday