The character has a son, Tyler, who is depicted by Hunter Doohan. He belongs to one of those "normie" townies. However, surprisingly, Wednesday gets along with him well and they become friends.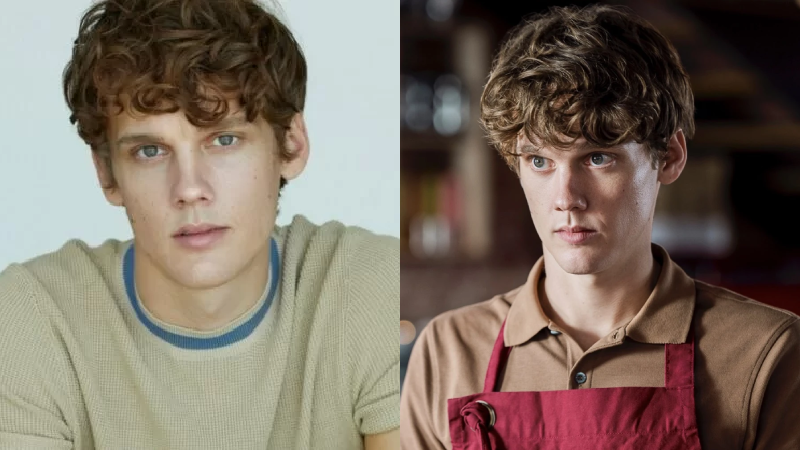 Hunter Doohan is a talented and famous American actor who, along with Jenna Ortega, played one of the main roles in the TV series Wednesday – the role of Tyler, the antagonist of Wednesday.
Biography Hunter Doohan
Hunter Doohan is an American actor. Born in the USA, Fort Smith, Arkansas. The actor's date of birth is January 19, 1994, according to the zodiac sign he is Capricorn. He is about 180 cm tall.
The boy was of Australian descent from his father and South African from his mother. Hunter's father, Peter Doohan, is a professional tennis coach, and his mother, Angie Harper Carmichael, worked at the Metabolic Research Center.
Hunter also has an older brother, John. Hunter is an open and confident person and has never hidden his unconventional orientation. At the moment he is married.
The rising star's husband is Fielder Jewett. On December 31, 2020, Hunter Doohan proposed to his boyfriend, and in the summer of 2022 they officially formalized the relationship.
Hunter began acting in 2012, but over the years, only short films have appeared in his creative biography. After a while Hunter started writing and directing his own short films.
Filmography of Hunter Duane Doohan took part in 9 film projects
2012 – "The Client List"
2016 – "Westworld"
2018 – "Soundwave"
2019 – "Old School"
2019 – "Where We Disappear"
2019 – "What / If"
2019 – Truth Be Told
2020 – Your Honor
2022 – Wednesday
Hunter Facts
Hunter dreams of learning to play the guitar.
The Wednesday star is a cat lover. He has his own black and white cat, pictures of which he often posts on his social networks.
After Doohan's father died of amyotrophic lateral sclerosis, Hunter became involved in an organization that supports people living with the syndrome.
Hunter in the film Wednesday
After his role as Tyler in the film Wednesday, Hunter received great popularity and critical acclaim.
Tyler is the son of Sheriff Donovan Galpin. According to the story, Tyler helps Wednesday to investigate the strange events that occur on the territory of the Nevermore Academy.
Sympathy develops between Tyler and Wednesday, which makes Xavier nervous, who is also in love with Wednesday. But later it turns out that Tyler was the monster (hyde). He killed people on the orders of teacher Marilyn Thornhill (played by Christina Ricci, an actress who in 1991 played the role of Wednesday in the two-part film "The Addams Family").
But her real name was Laurel Gates. She wanted to resurrect her longtime ancestor Joseph Crackstone so that he would rid the world of outcasts.
But in the end, Wednesday, with the help of Gooddy and Bianca, was able to defeat both Crackstone and Laurel Gates and Hyde. Did Tyler Wednesday love? We all know that Tyler and Wednesday were in love with each other.
But was the love real? According to Hunter Duane, many might think that Tyler loved her, but Duane thinks otherwise. At the same time, he suggested that maybe the villain had feelings for Wednesday, which he suppressed.