A new show dedicated to the Addams family's daughter has just premiered. The final episode has already been shown. So the Internet is full of speculations about the main heroine's possible romantic relationship.
We invite you to break down all the nuances of the Wednesday series (2022). Tyler, the sheriff's charming son, is, undoubtedly, the main object of the fan's conjectures. So we won't just recall the plot, but also try to resolve the following dilemma. Did Tyler have feelings for Wednesday? Considering the number of exciting scenes involving the two teenagers, the topic arises naturally.
However, Tyler and Wednesday from the Wednesday series aren't the only intriguing couple. The gothic lady also provides the reasons for the romantic development with a student called Xavier. Apart from that, the show has other interesting characters that interact with Wednesday. And Tyler's moments of intimacy with the girl aren't everything you may get thrilled about.
Tyler and Wednesday's relationship
Let's start with the central storyline. Are the gloomy girl and Tyler from "Wednesday" good as a couple?
How Wednesday met Tyler
As a major character, the young man should come up as early as possible. Which Wednesday episode does Tyler appear in? It happens in the opening chapter. The heroine escapes from the therapy session assigned by the court and encounters a cafe. The guy works there as a barista.
Wednesday and Tyler have had strong chemistry from the very beginning. However, the girl keeps looking cold as it's her standard behavior. We can't say Wednesday fell in love with Tyler right away. But her feelings become more obvious over time. If it can be obvious at all considering her moody nature. In any case, Wednesday likes Tyler the first time they meet.
Tyler and Wednesday's prom date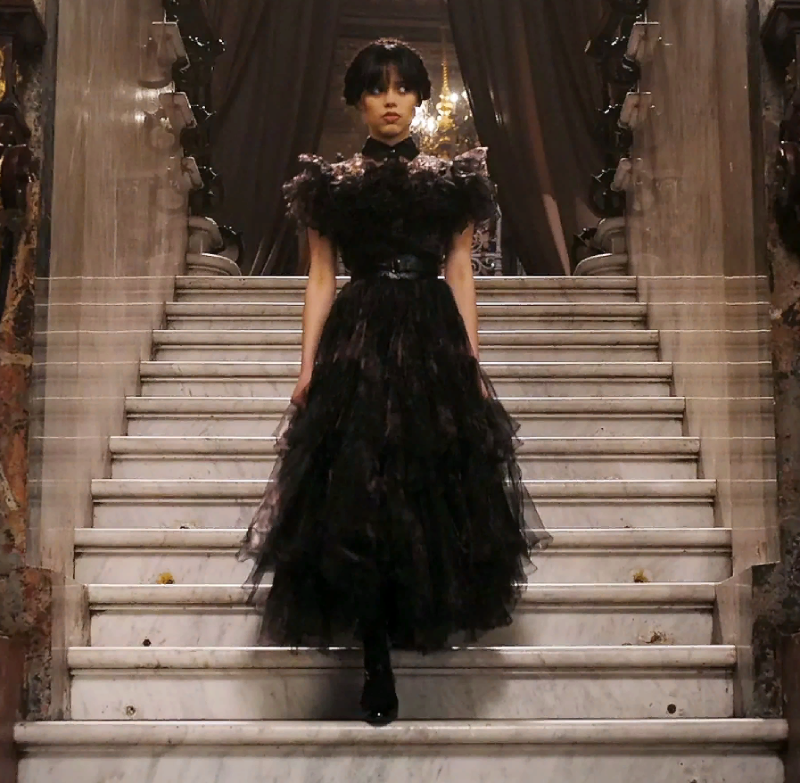 Truly a breathtaking moment in the series is Wednesday's appearance at the Rave N dance. Her astonishing dress and authentic solo performance made a great impression on everyone.
Nevertheless, we see Wednesday and Tyler at the school dance together. Which makes them even closer to each other. Why did Wednesday go to the dance with Tyler? She sees him as a ray of light she lacks so desperately. His company evokes the best in her.
There's an interesting phrase in one of the following episodes with Wednesday and Tyler. Love is often defined by this factor. The young man says he doesn't care about her drawbacks. And they don't push him off her. Too bad, we know why Tyler kissed Wednesday right after these words! Or, rather, he tried to kiss her.
But let's get back to the dance party. Wednesday's note to Tyler written by Thing urged the guy to take action promptly. So he showed initiative and took the lady to the evening ceremony at the academy.
Tyler and Wednesday kiss scene
One of the popular questions on the web is "What episode does Wednesday kiss Tyler?". Apparently, the scene was so impressive that many viewers decided to watch it over again. We're giving the answer: Tyler and Wednesday kiss in episode 7.
It's worth noting that the show's target audience is teenagers. No wonder romantic moments are in such favor. You can go to Youtube and search for the Wednesday series. "Wednesday and Tyler kiss", the video with thousands of views, will definitely show up.
If we turn to the plot, the moment when Wednesday kisses Tyler follows their date. The guy invites her to take a walk after she shows him the diary. It was found in the library and describes hydes. While they spend time together, someone steals the diary. And it's not random at all.
It's important to remember all that when asking "What episode does Tyler kiss Wednesday?". Those events also happen in the 7th episode. And they serve as a clue to realizing Tyler's implication in crimes. He deliberately distracted Wednesday so that Ms. Thornhill could ransack her room. Only after that comes the moment when Tyler and Wednesday share a kiss.
What happens after that isn't any less important. She suddenly has a psychic vision that reveals the monstrous nature of her limerent object. What Wednesday said after kissing Tyler is quite a precise representation of her predilections.
Although it was an absolute shock, generally, she expected something like that. Who would be a better candidate for the first kiss than a psychotic serial killer?
In what episode does Tyler become the hyde? Wednesday actually reveals his terrible secret right then because her visions never lie. So we could say it happens in this exact episode. It seems like the moment when Wednesday shares a kiss with Tyler is also tragic.
In any other series, we'd be given a clear guess of who's the evil one. Here, however, sullen and mysterious things are presented as normal and funny. So it's much harder to figure out the bad guy. On the other hand, such surprises as Wednesday Addams kissing Tyler make the series spicy.
It's interesting to note when exactly we observe Wednesday and Tyler's first kiss. And what episode does discover his true nature? The events follow one right after another. Everything is constructed so that we get several shocking news nonstop. The show authors knew what strings to pull to create an impression on the viewers.
We anticipated this second: "When will Wednesday kiss Tyler?". The plot led to that for quite a long time. But no one expected it would happen like this. She reveals her feelings in a very straightforward manner. Which is so typical of the gothic lady.
Did Tyler really like Wednesday?
It's not difficult to understand why Wednesday kissed Tyler. She was into him. But was that mutual? Did Tyler like Wednesday? This question is as popular as "What episode do Wednesday and Tyler share a kiss in?".
Hunter Doohan, who played the character, had a lot of interviews after the show. In one of them, he shared his opinion when asked "Did Tyler really love Wednesday?". According to his explanation, with Wednesday, Tyler pretended he was in love with her.
He is full of hatred toward her, her family, and the entire academy. It's due to what happened to his mother who was also a hyde. She died because Nevermore rejects hydes instead of teaching them to control their powers. So even if Tyler actually liked Wednesday, he would never admit that.
His goal was to take revenge and hurt as many people as possible. And that explains why Tyler dated Wednesday. It was a convenient way to distract her when necessary or get some new information. Tyler used Wednesday to control the situation. And this fully answers the question "Was Tyler in love with Wednesday?".
Tyler from "Wednesday": character analysis
For both show fans and Wednesday, Tyler's story was a secret until the last moment. Even after she had a vision, there was no absolute assurance. What if this time she is mistaken? In the 8th episode, Wednesday tortures Tyler, and things finally get clear. He reveals his monstrous nature.
However, there should be a reason for every harmful action. So, is Tyler from "Wednesday" good or bad? Let's recall the plot.
Although we don't know much about Tyler's family from "Wednesday", we're given an interesting fact. He goes to a therapist Marilyn Thornhill, allegedly, to maintain his mental health. In reality, his father attempts to control the guy's hyde identity and emotions.
It feels like he just couldn't hold his anger inside. It was just a combination of circumstances that turned the guy into a beast. From this perspective, the relationship between Wednesday and Tyler, and the underlying psychology look different.
Speaking of the plot, it actually has a few hints that point to the monster. The day of Jericho's Festival is an important episode. We see how Wednesday tells Tyler she needs help in her searches. The girl wants to find a book that was stolen from the museum at 2 p.m. Luckily, the guy agrees to help because his shift already ended. At 2 p.m.
Why Wednesday chose Tyler to trust all the secrets is another question. But, in any case, he always knows what's going on with the murder investigation.
Doohan said he was against overly obvious hints. He even asked to cut the scene where Tyler is in the bathtub from "Wednesday". It seemed too suspicious to him.
Now it's easy to understand why Tyler got together with Wednesday. It was a good source of information. But he could just be friends with her. However, Tyler kisses Wednesday and keeps the romantic atmosphere. Why should he make things complicated?
So it's obvious why Tyler did that all to Wednesday. He distracted her from his hyde nature. And even if Wednesday and Tyler broke up like normal people, he wouldn't feel sad.
Wednesday and Xavier
The teenagers first meet at the Nevermore Academy, when Xavier saves her from a falling gargoyle. We also find out they have known each other since childhood. Wednesday even saved the boy from his unintentional self-cremation at the age of 10.
During the whole season, Xavier shows interest in the main heroine. It starts from the lesson where he brings a drawn spider to life using superpowers. Further, he's always ready to help the girl with her search for a killer. Sadly enough, she suspects him of being a murderer, and his feelings remain unreciprocated. Xavier and Wednesday never kiss, nor create ambiguous moments.
Nevertheless, their connection causes anger in Bianca's heart, who is Xavier's ex-girlfriend. She has conflicts with Wednesday from the very beginning. They even have a sword duel.
Some signs confirm that Xavier loved Wednesday. When he saw her at the Rave N Dance with Tyler, it distressed him greatly. So he asked Bianca to sing him her special siren song. That could help him forget about Wednesday for a while. Obviously, his request is rejected and leads to a conflict with his ex-girlfriend.
An open ending allows us to suggest this young man has potential. In the sequel, he may bring his relationship with Wednesday to a whole new level.
Enid and Ajax
This couple started their relationship as friends. Their first connection happens during Wednesday's tour at the academy. Ajax shares with Enid rumors about her new roommate.
Further, Enid attempts to bring an air of romance into their communication, all in vain. Even when they already set up a date, it was all messed up. Ajax stoned himself. "Wednesday" characters that study at the academy are all granted some special power. And he wasn't an exception.
He was a gorgon. So everyone who saw his snake hair would turn into a stone. Unfortunately, he glanced at himself in the mirror and became immobile for a long time.
Later in the series, we observe a rapprochement happening between Enid and Ajax. Their kiss in "Wednesday" finally occurs after the school soiree. The girl gets into an argument with her dance partner Lucas and his friends. Ajax happens to be nearby and defends her.
As a result, Ajax and Enid kiss. The "Wednesday" movie gets even more exciting with this scene. Every occasion is filled with both romance and frightening mysteries.
Potential romantic plot twists in the second season
Will Wednesday and Tyler get together? Would the heroine develop her relationship with other characters? Let's discover the topic.
Will Tyler and Wednesday get back together?
Earlier we found the answer to the question: "Did Tyler love Wednesday?". After the show, the actor discovered the truth about his "monstrous" intentions. Tyler's interview on the "Wednesday" series we broke down above fully explains the character's motivation.
But what about the next season? Could it be that Tyler and Wednesday will get together? Considering his hatred of the whole Nevermore, it's hardly possible.
Come to think of the "Wednesday" series' plot, she will not get together with Tyler. That's almost for sure. Her reaction after revealing his dark secret tells everything. Would she date someone who attacked her friends?
When we discovered the killer, it was clearly Tyler's removal from "Wednesday". His image of a good guy is destroyed for good.
Wednesday and Tyler behind the series
Apart from asking "Will Wednesday stay with Tyler?" fans develop their speculations in other ways. Tyler and Wednesday theories reach as far as the artists' personal matters.
Thus, there's been a hot topic on the web recently. It sounds as follows: "Are Tyler and Wednesday a couple in real life?". If we take a look at the actor's relationship, we'll discover it's out of the question.
Hunter is married to a man. For that reason, the "Wednesday and Tyler date in real life" scenario is impossible.
Fan art
Okay, fans may come to the realization Tyler and Wednesday don't date in real life. But their imagination is unstoppable. They create numerous types of fan fiction involving Wednesday and Tyler, art fantasies, etc. The series lovers imagine various plots around the characters.
For instance, there is a fantasy about how Wednesday and Tyler's kiss scene was filmed. It's a whole written story. It tells us about the artists becoming aware of their mutual feelings after the shooting. So their relationship acquires a wild continuation later on.
Besides, the series' admirers actively express themselves in drawings. Usually, they depict the most exciting scenes. So when it comes to Wednesday and Tyler, it's the kiss. A photo of the scene can be transformed into a watercolor painting.
Apart from Wednesday and Tyler's kiss art creations, fans often participate in costume parties. They dress like their favorite characters and feel closer to them.
Wednesday and Xavier's love story
From the first season, we know the answer to the question: "Does Xavier love Wednesday?". At least, it's a strong sense of attraction. In addition, he doesn't have any serious competitors and all the obstacles are gone. Tyler turns out to be a monster, while Bianca is neutralized. So it's a great moment to try his luck.
On the other hand, a less optimistic plot twist is also possible. There is a theory that says Xavier is also a hyde. And this part of his nature awakened due to Tyler's actions. It would explain why the young man is so obsessed with the beast. It's a part of his identity.
Wednesday and Enid
What happened to Ajax in "Wednesday" can urge the girls to start a relationship. Although petrification is only temporary, Netflix can easily develop the plot in this direction.
The channel is known for its support of sexual minorities. So it's a very feasible plot twist. So it's not that Ajax died, but Wednesday may smoothly replace him.
Conclusion
We've gone through the potential love stories in the "Wednesday" series. Did Tyler really love Wednesday? Could she become a couple with Enid? Questions like these are extremely exciting for fans and especially the teenager section. So we tried to answer them.
A romantic element is an inherent part of the show. Without it, the detective story would be plain and tiresome. Love relationships make the plot much spicier. The last thing that's left for us is to wait for the second season. Then, we'll know if Tyler from "Wednesday" 2022 and other characters will join the sequel.