The past year brought a great number of movies and shows we truly enjoyed. But there was one that still produces collective euphoria – it's Wednesday Addams. In 2022, her outfits from the Netflix series were copied by many goth aesthetic fans.
The girl's signature style was infused into their closets and keeps dictating trends for others. It's been associated with a particular subculture since the character's debut which happened in 1938. Within the next eight decades, it went through multiple incarnations. But Ortega's rendition immediately stands out.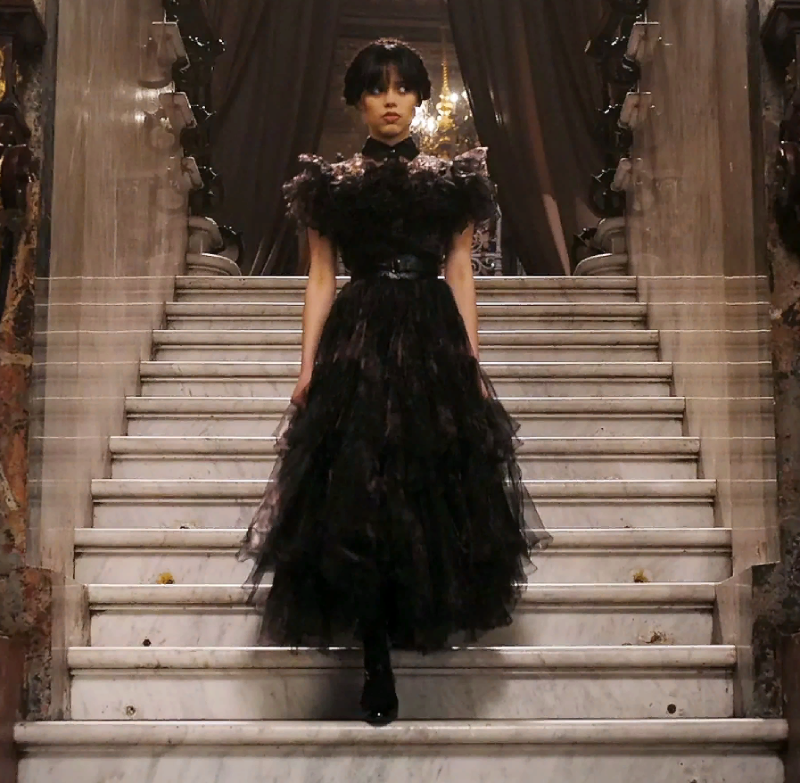 She tends to be more into high fashion. Wednesday Addams' dance black dress by Alaïa is the pinnacle of her voguish looks. Could you ever imagine Christina Ricci's character doing that?
Here, we have a more complex manner of dressing that represents a combination of features. Let's break down the details of how to recreate this extraordinary style.
Key points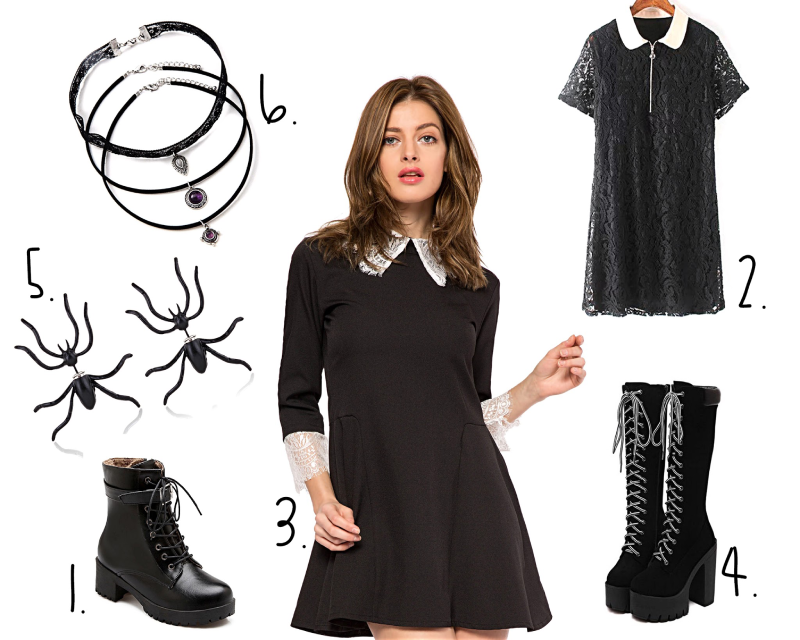 If you want to build Wednesday Addams-inspired outfits, it's important to consider a few components. Her looks incorporate the following elements.
Traditional goth staples serve as a foundation for all wardrobe tweaks. Whether we talk about leather fabric, chunky boots, or an all-black appearance, it's the base.
Then you weave in some luxe materials, such as velvet and lace. The point is to add feminine features. So using ruffles, tulle, and a strict high-neck blouse is also a good idea. Altogether, it will result in a surprisingly stylish aesthetic which is called Gothic Romantic.
In other words, you should balance out the elements of a chic and moody appearance. Once it's achieved, you get that desired gothic romantic look.
Wednesday Addams' outfits in the 2022 series
Not to leave you without a drop of inspiration, we've examined Wednesday Addams' clothes. What does she usually wear? Here is the explanation of her most-loved looks in each episode.
It can be used as a motivation to diversify your own wardrobe. Or else, you can copy every single detail and acquire the appearance of her twin.
Opening episode's look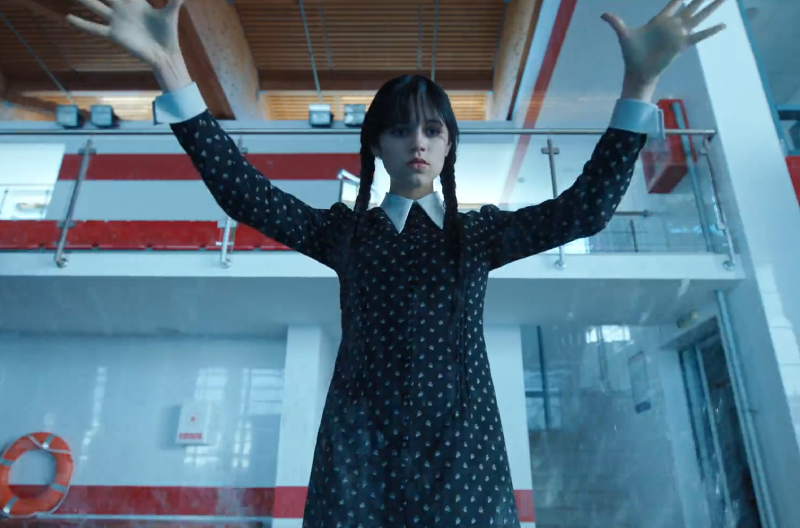 It was the show authors' moral obligation to use the iconic image from earlier movies. For that reason, in the first episode, we could witness Wednesday Addams' full body dress. It remained the same, but with a touch of upgrade.
Wednesday Addams' black dress complemented with a white collar was slightly altered. This time, polka-dot flowers served as a decoration for the standard outfit.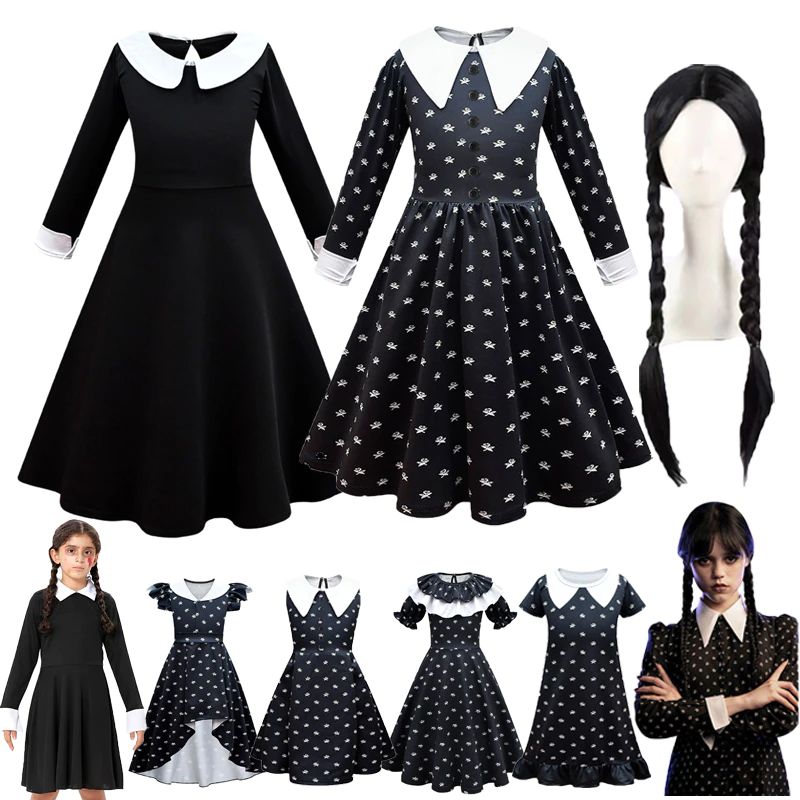 In fact, you could wear it during most seasons of the year. The given look is quite universal. However, if it has to be enhanced, don't forget to add the classic pigtail braids. Wednesday Addams' nails in dark tones aren't any less important. That's how you get a full impression of the character.
Wednesday Addams' zip up hoodie (episode 2)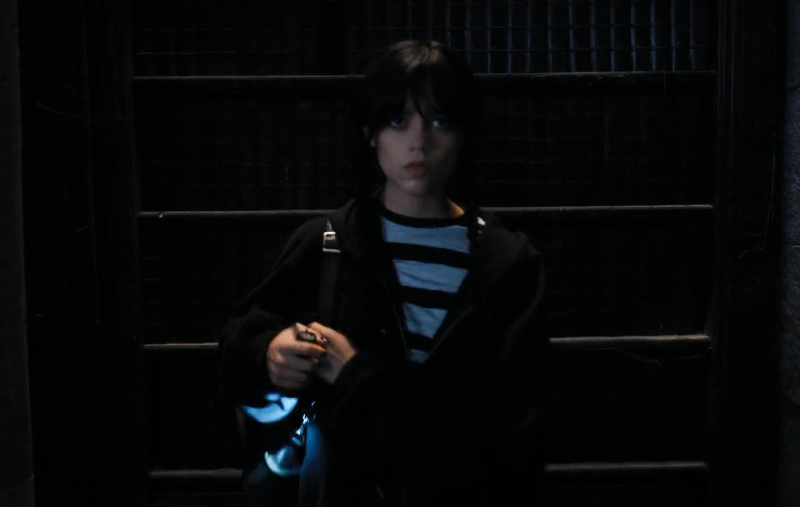 Here the young lady proves that it's possible to look cute while being dressed comfortably. Her lengthy layered hoodie is a testament to that. The best part is many girls may already have it in their wardrobe.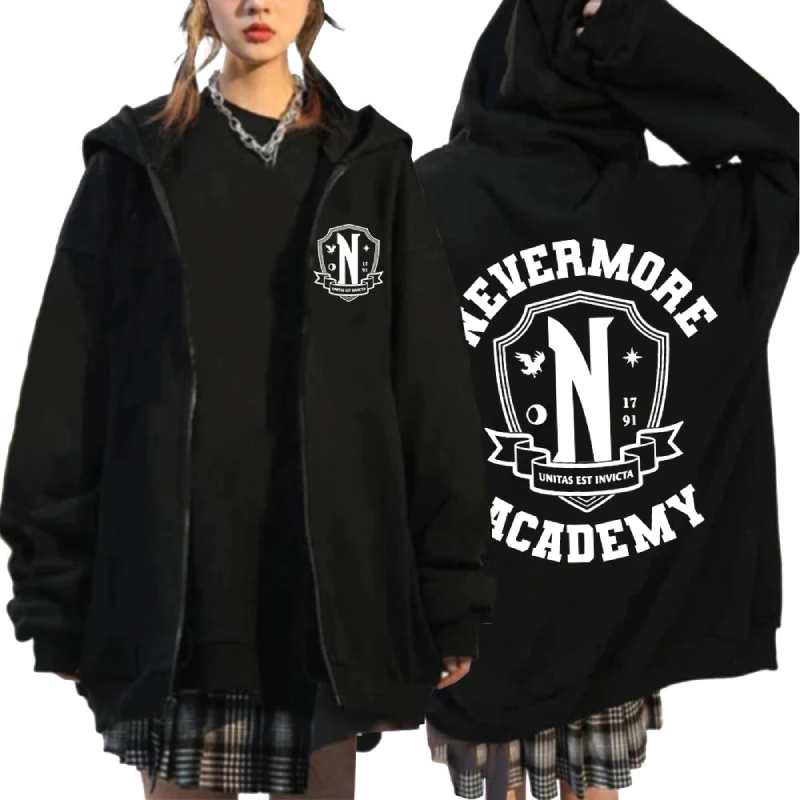 A striped black-and-white sweater underneath is also quite a common piece of clothing nowadays. If you don't own any of these, just go to a nearby store. And you'll most probably find something very similar.
If you're struggling to get a nearly identical look, pay attention to the following detail. Wednesday Addams' boots with a heavy base perfectly match the outfit. Flared leggings can naturally compose them into a laid-back, yet complete look.
Wednesday Addams' uniform for school (episode 3)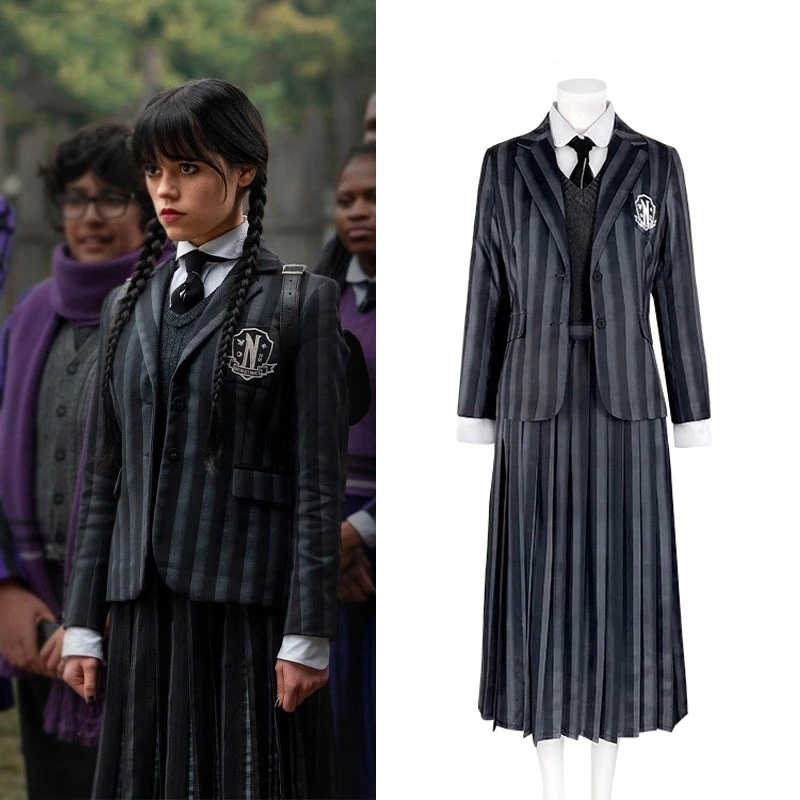 Here comes school chic. Nevermore Academy really creates trends with its striped skirt, woolen vest, and jacket. A white shirt and a tie underneath make a great contrast with the uniform. Which is, by the way, purple for all students and only black for Wednesday. It's just a slight modernization for a special girl.
You may also customize the outfit for a particular occasion. At first sight, it's only suitable for various work events or the office. However, you can try to loosen the tie and put on a shorter skirt. The chaste shirt can be simply replaced with a crop top. Now, you're ready for a night out!
Wednesday Addams' dance dress costume (episode 4)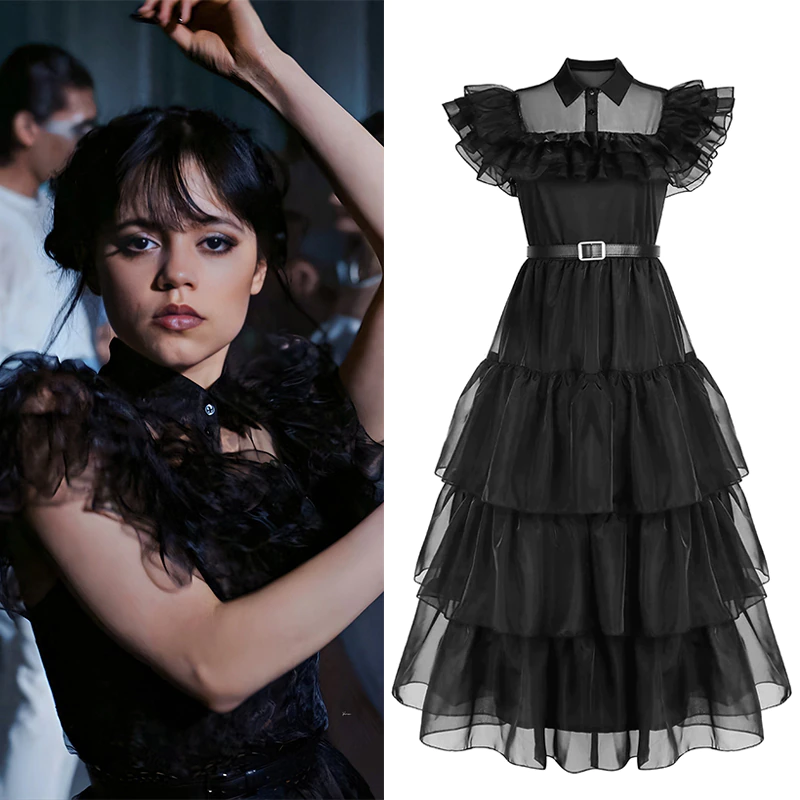 There is a moment in the series that made us all hold our breath. Seeing Wednesday Addams in a prom dress was truly impressive. Decorated with sheer and tulle, it showed how beautifully one can fuse dissimilar qualities.
The embodiment of grim romance, Wednesday Addams' raven dress is appropriate for a fancy shindig. It incorporates somberness and glamour, resulting in quirky elegance.
And, of course, doing the iconic dance in this frock is an absolute must.
Wednesday Addams' long skirt (episode 5)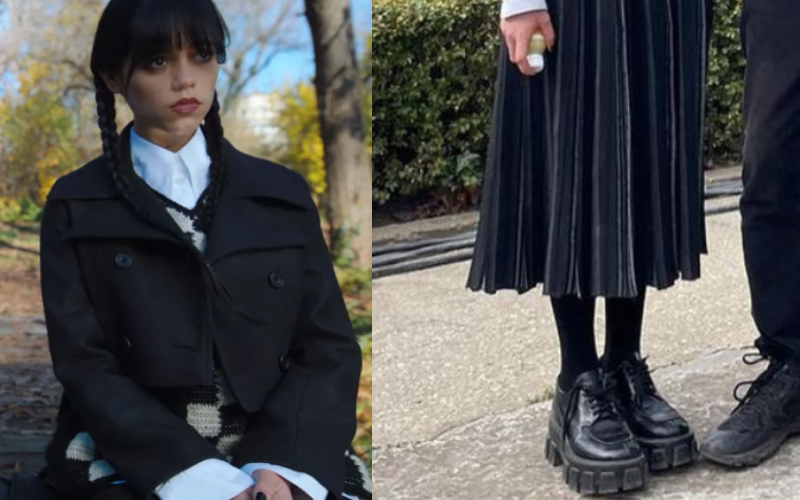 Similar to Wednesday Addams' dress from the first episode, this look is austere and modest. But at the same time, it has an air of elegance. In contrast to other teenagers' cute crop tops and high-waisted jeans, her choice is different.
The lady puts on a long skirt and a stylish lapel overcoat in dark tones. And she rocks it better than many adults could! This is a sophisticated look which, by the way, doesn't require serious financial investments. Wednesday Addams' umbrella is a great way to complement the garment with an appropriate accessory.
Wednesday Addams' sweater (episode 6)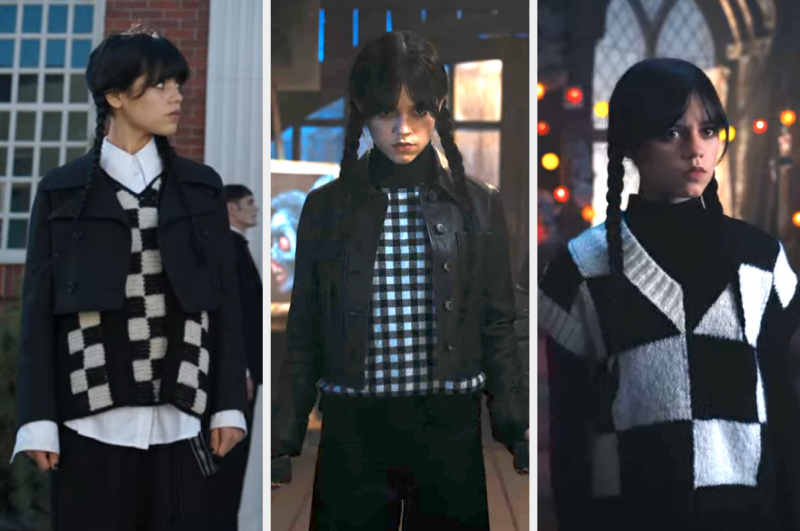 Here we can see a variation of Wednesday Addams' ugly sweater. Which is also a perfect outfit for a sleuth that she represents. This time, the girl uses a simple black turtleneck sweater as a base. On top, she is wearing an undemanding long-sleeve tee with wide horizontal stripes. A puffer vest covers that all. What an uncomplicated, yet fabulous look!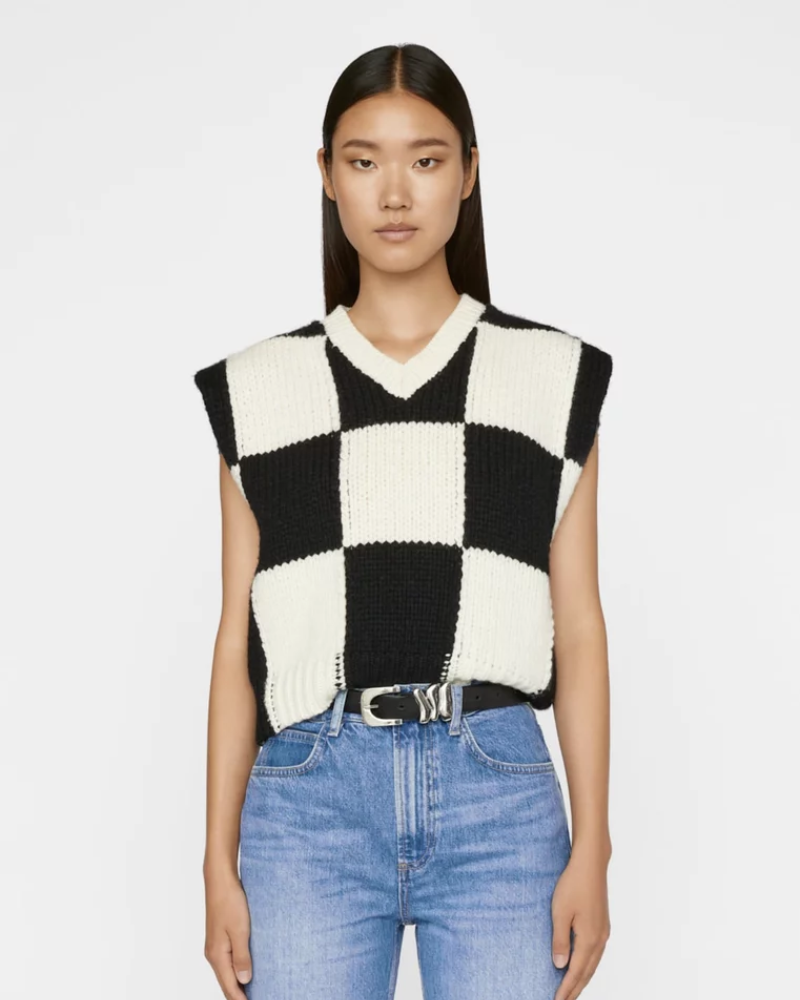 Chances are you already wear something like that in other combinations. Well, it's time to combine those exactly the way Wednesday does. Mix it with some denim bottoms and you'll fit smoothly into 95% of occasions.
Wednesday Addams' jacket (episode 7)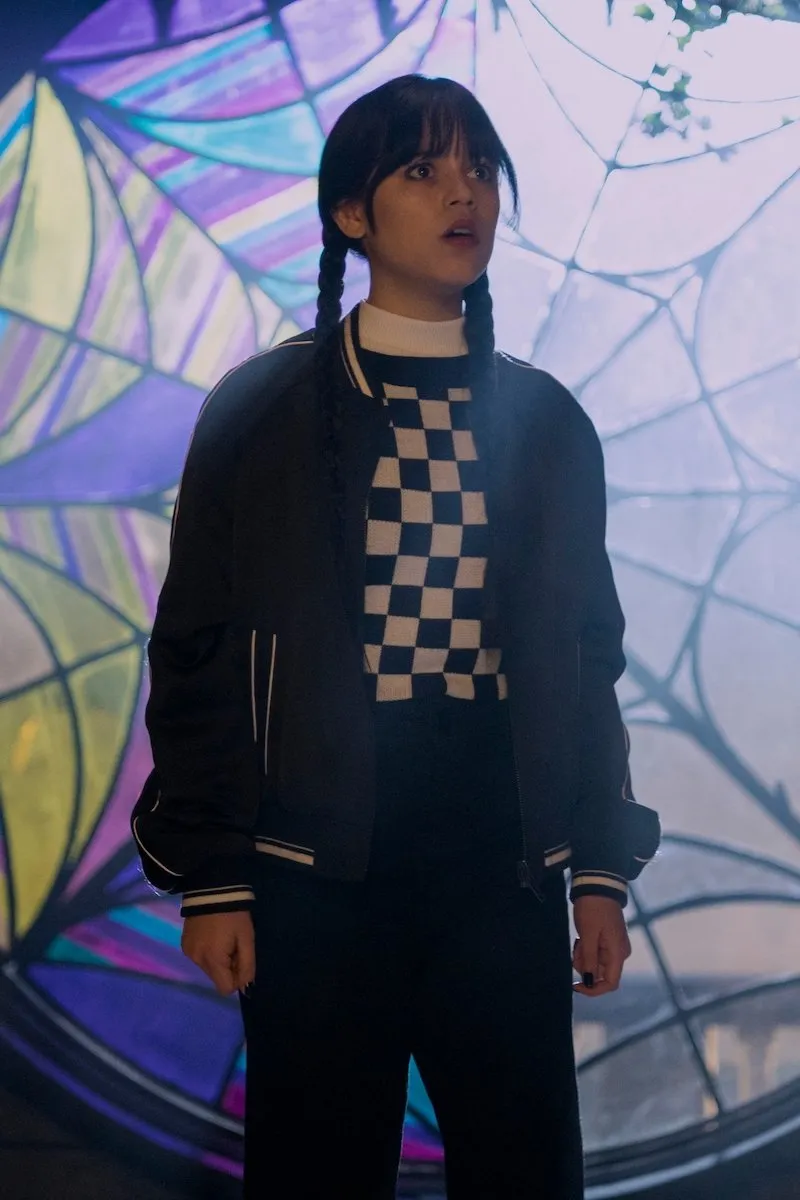 Not the most feminine ensemble in her arsenal, but this still looks incredible. A bomber jacket covering a plaid black-and-white sweater is a simple blend.
However, a white collar immediately makes it more of a Wednesday-ish look. If you're struggling to find these items' replicas, a varsity jacket is a good substitution.
Ancestral ghost's appearance (episode 8)
In fact, it isn't Wednesday. But this is the most fashionable ghost you've ever seen, Goody Addams. Her long corset dress in gray color is gorgeous. But it's an old-time, even historical garment that wouldn't fit in nowadays' reality. Unless it's a costume party.
So you can take a figure-hugging dress as a good alternative for the 21 century. However, the corset-like element should remain in place. Also, there are blouse variants of it that you can complement to your own taste.
And don't forget to amp up the look with shimmery silver/blue eyeshades. While there's no lipgloss on Wednesday Addams, the lip color of Goody is ghostly gray. Which is the final step on your way to building the ancestral apparition look.
Makeup
In the show, Wednesday Addams' eye makeup is created with smudged eyeliner. Obviously, it's black. Also, you could notice Wednesday Addams' lipstick color of deep plum. Those two things help to put the right accents on the face and nothing else. The gothic look is expressed through many other details including her clothes and behavior.
So learning from Wednesday Addams makeup tutorial won't be enough to convey the same impression. Without enhancing attributes the cosmetics look quite neutral. It's all about Wednesday Addams' eye color, haircut, and other seemingly unimportant elements.
Nevertheless, if you want a piece of dark glamour on your face, here's some advice. One of the common Wednesday Addams makeup ideas is using black lipstick. But be careful, it requires an impeccable skin tone. Otherwise, it will make you look unhealthy.
Fan's attributes
When recreating the look of your favorite character, why not show your love more directly? Wednesday Addams' earrings (the ones depicting her face) or similar trinkets would work just fine.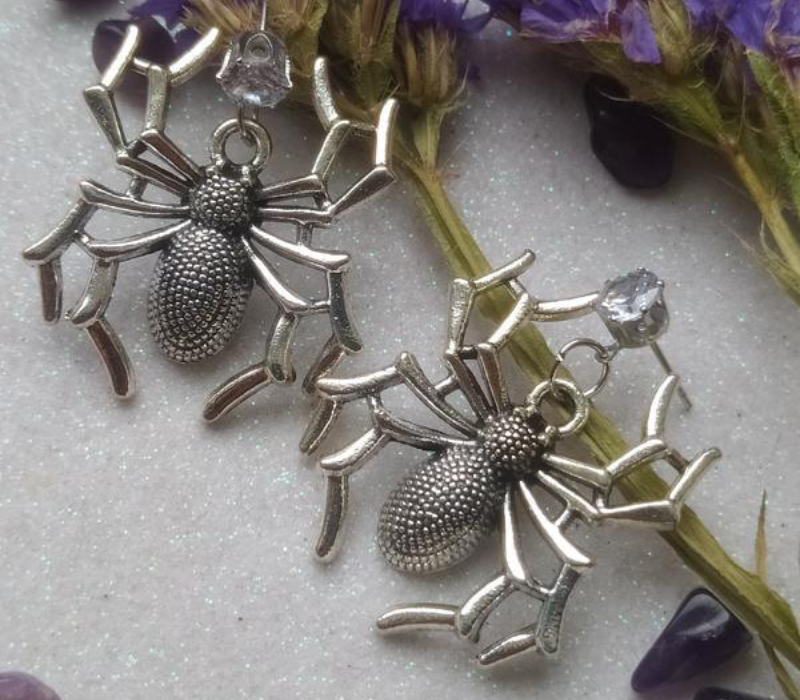 Conclusion
After depicting Wednesday Addams, Jenna Ortega's makeup/looks have been clearly influenced by the character. Therefore, moody chic vibes can be a part of one's looks in real life.
So if you're attracted to gothic romantic style, don't think twice. Use Wednesday Addams' wardrobe as an inspiration for your daily outfits and show your individuality.