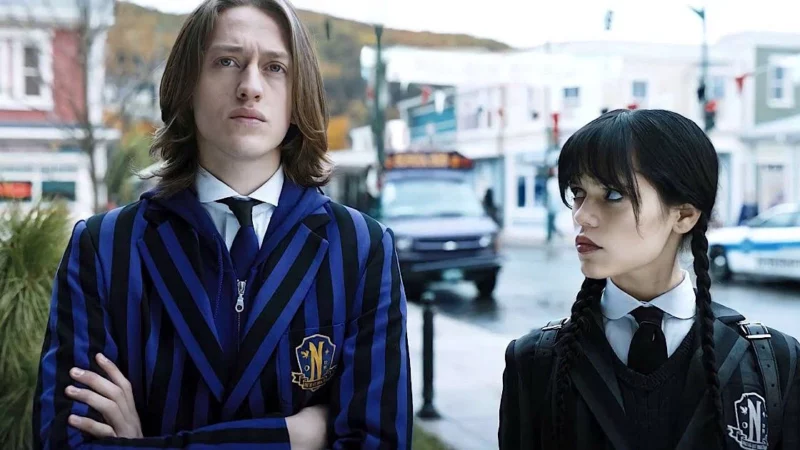 The creators of the popular comedy fantasy horror series "Wednesday" from Netflix decided to secure themselves and excluded one of the main characters of the show: Xavier Thorpe, a student of Nevermore Academy, a visionary artist. This character will not appear in Season 2.
The fact that 21-year-old Canadian Percy Hynes White, who played the role, in January 2023 was accused of all sorts of creeping about girls, violence, inappropriate conduct, sending indecent photos … All in all, the trail of allegations is long.
Several girls, with whom Percy allegedly studied, said that he and his buddies organized parties, got girls drunk and the list goes on. At the time, the Canadian was between 17 and 20 years old. The actor denies his guilt.
Recall that the plot of "Wednesday" evil is created by Hyde – it is a sleeping essence that lurks inside some people. If someone outsider awakens Hyde, the monster recognizes the one as his master. Thorpe had such a werewolf sub-settler awakened. He's the one who did the creepy stuff in season 1.
In the finale, the main character, 16-year-old Wednesday Addams (a sociopathic girl with psychic skills), figured out which of the Nevermore students had Hyde awakened.
It's likely that Xavier Thorpe may figure in Season 2, but only in character discussions. He himself will not be in the continuation of the series. The actor-singer and the authors of the show have not yet commented on this situation.
On account of the Canadian – the movie "Christmas scary", "Remote Location", the series "Between", "Gifted". By the way, together with Jenna Ortega (performer of the role of Wednesday) they starred together in the romcom "Winter, Spring, Summer or Fall", which was supposed to be released, but never came out.
The movie was canceled – probably canceled for the same reason: because the cast includes the scandalous Percy Hynes White.
Season 2 of "Wednesday" doesn't have a premiere date yet. The sequel was scheduled to be released by the end of 2024, but Hollywood strikes (writers and actors) interfered with the production process. Netflix was forced to stop work on American content. "Wednesday" was not spared from this freeze.